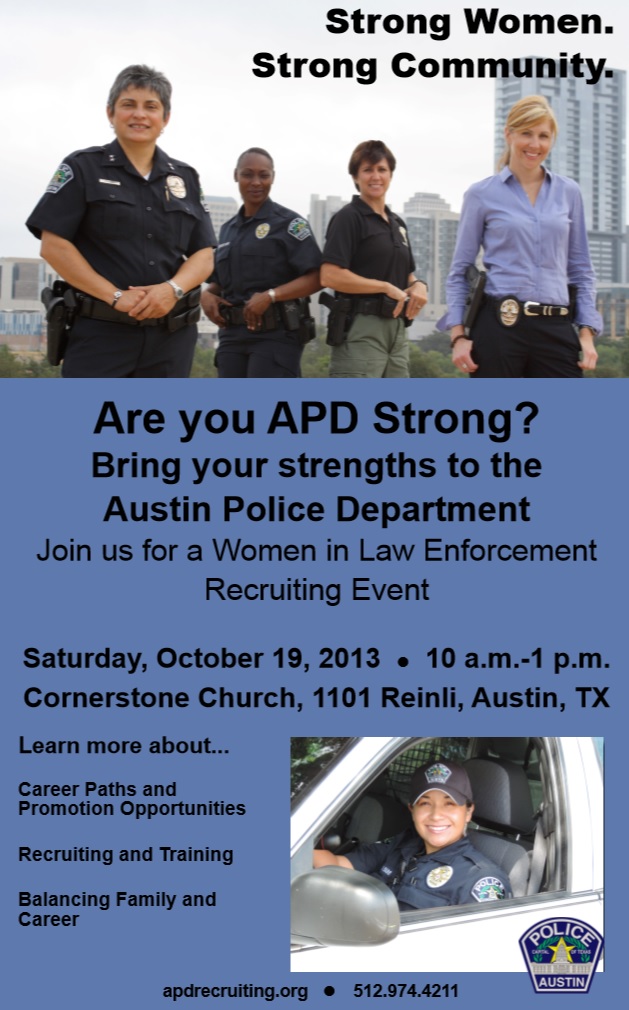 Always thought of as a job for men, more and more women are choosing police work. The Austin Police Department currently has 171 female officers and is looking for more women to join the ranks. To encourage more female applicants, APD is hosting a Women in Law Enforcement recruiting event onSaturday, October 19, 2013.
Topics include application and training requirements, balancing home and work life, and career paths and promotion opportunities. APD Recruiting staff will be on hand to speak with interested applicants. Speakers include APD Assistant Chief Jessica Robledo, who started with APD in 1988 and rose through the ranks to her current role, in which she oversees the Special Operations (SWAT and Bomb Squad), Specialized Patrol and Special Events, Highway Enforcement, Communications, and Victims' Services Divisions.
"Women bring their own uniqueness and style to a male-dominated profession," Robledo said. "I would tell any woman interested in becoming a law enforcement officer to not let fear of the unknown paralyze you from achieving your dreams."
Women in Law Enforcement Recruiting Event: Are you APD Strong?
Saturday, October 19, 2013
10 a.m. – 1 p.m.
Cornerstone Church, 1101 Reinli, Austin, TX
APD Recruiting Lieutenant Gerardo Gonzalez said that having women on the force is essential. "APD understands the value women bring to law enforcement and we are looking for strong, committed, women to join our team and help us remain the most professional law enforcement agency in the nation."
Austin is a fast-growing, diverse community and APD offers a competitive benefits package including health and life insurance, vacation and sick time, retirement and many career opportunities. To learn about how to be APD Strong, visit apdrecruiting.org, email recruiting@austintexas.gov or call 512-974-4211.